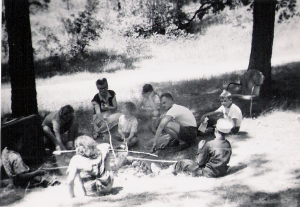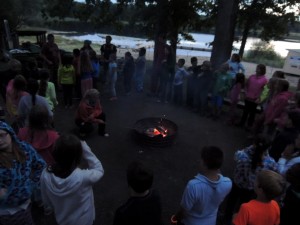 Camp Talahi has a long history as a summer camp, with nearly 100 years of happy campers! The Camp Talahi Retreat and Nature Center is eager to share that tradition with you!
The Camp Talahi Retreat and Nature Center offers overnight summer camping opportunities for children ages 7 to 18. Summer Camp Programs are typically 6 days, 5 nights long, but we also have a shorter 3-night "mini camp" for our youngest campers.
Campers participate in many different activities; including hiking, canoeing, arts and crafts, building team and leadership skills on the Adventure Course, dance and drama.
Campers arrive on Sunday at 4 pm,  sleep in dorm-style buildings equipped with modern bathrooms, are served 3 tasty and healthy meals a day and are supervised by our enthusiastic, professional staff members.
Youth Overnight Camps 2017
Counselor in Training Camp (grade 9-12): June 18-23
JR High Camp (grade 6-8): June 25-30
Mini Camp (grade k-2): July 5 – 8
Junior Camp (grade 3-5): July 9 -14
SR High Camp (grade 9-12): Full Session: July 14 – 21; 5 Day Session: July 16-21; Weekend Session: July 14- 16
Adventure Camp (grade 6-8): July 23 – 28
Horse Camp (grade 5-8): July 31 – Aug 4
(Hosted by Horse Powered People AND Camp Talahi)
*please note that grade levels refer to the grade that a camper has just COMPLETED.
Weekend Camps 2017
Young Adult Weekend: May 26 – 29
Family Camp: July 28- 30
Camp Pinterest: July 28-30
See Camp Costs >>
Register for Camp >> Registration is now open!

Sample daily schedule
7:30: Rise and Shine!
8:00: Breakfast
8:45: Morning Reflections
9:15-11:45: Rotations
(canoeing, arts & crafts, adventure
course, drama, nature hikes, games)
12:00: Lunch
1:00: Flat on Bunk
2:00: Waterfront Time
3:30: Afternoon Activity
(capture the flag, volleyball and more!)
5:30: Dinner
6:30: Vespers Services
7:30: Evening Activity
(talent show, carnival, movie night)
9:30: Cabin Time/Lights Out (time depends on age group)