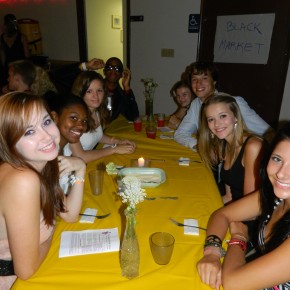 Senior High Camp combines the camping activities we all know and love with new experiences and challenges. In this seven day session campers can leave the pressures of high school behind, connect to friends new and old, and grow and revitalize a personal relationship with God.
With all the crazy creative things our senior high campers do, it's hard to pick a favorite, but playing volleyball during the day and the formal dinner at the end of the week are always big hits! Not shaving cream fights, though, because we would never ever have those at camp 😉
For campers who have completed grades 9-11.
Please note: Our age range for our high school camps has changed for 2018. If your camper is graduating in 2018, they have the option of becoming a counselor/staff member, or remaining as a camper for their last year. This will be the last year this option is available for 12th graders. If your graduated camper wishes to remain as a camper for 2018, please contact Hannah at info@camptalahi.org for registration instructions.
2018 dates
Start date: Sunday, July 15
Start time: 4:00 p.m.
End date: Friday, July 20
End time: 11:00 a.m.
Senior High Camp Costs
5 day session: $395 ($375 early registration)
Siblings or second registration: $ 345 / $ 325
Sibling/second registration rate: Get a $50 discount for the second (or third, or fourth..) child that registers from the same family, or when the same child signs up for more than one session. This applies to youth camps only, not family camp or young adult camp.
Register for Camp
Online Registration:
Our online registration system is secure and easy! The health form is included, so please have your insurance card ready. You have the option of paying in full, or making a $50 deposit when you sign up and paying the balance by June 11.