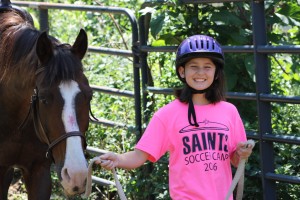 Talahi is excited to announce that we are partnering with Horse Powered People to bring you the first ever all horse camp! Campers will get to experience the traditions that Camp Talahi has to offer such as swimming, vespers, camp fires, our adventure course, boating and more, while spending half of their day with the horses on site.
Campers will be participating in many horse centered activities such as meet the herd, learning communication, team building, horse painting, grooming, obstacle course, and riding.
While campers will be participating with the horses on site during the day, they will be provided with food and lodging in our Talahi facilities and will also be participating in vespers, swim time, rest time, and evening activities with our Talahi staff.
For campers who have completed grades 5-8
Start Date: Monday, July 31, 2017
Start Time: 10 a.m.
End Date: Friday, August 4, 2017
End Time: 11 a.m.
Horse Camp Cost: $595
Sibling/second registration rate: Get a $50 discount for the second (or third, or fourth..) child that registers from the same family, or when the same child signs up for more than one session. This applies to youth camps only, not family camp or young adult camp.
Register for Camp
Online Registration:
Our online registration system is secure and easy! The health form is included, so please have your insurance card ready. You have the option of paying in full, or making a deposit of $50 and paying the balance by June 11.