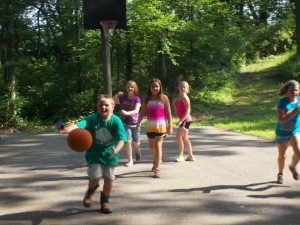 GAS Camp is one of our newest camps, and is for all of the kids who just can't get enough of games, sports and science. We will be playing games such as ultimate Frisbee, Handball, Splashball (similar to water polo), along with old favorites like soccer, basketball and volleyball. When our bodies need a rest we will use our minds to create simple machines and science experiments!
For campers who have completed grades 5-8.
GAS camp will run concurrently with MADD Camp. Campers will have meals together and occasionally overlap activities like worship and waterfront time, but most programming will be separate.
2016 Dates
Start Date: Sunday, June 26, 2016
Start Time: 4:00 pm
End Date: Friday, July 1, 2016
End Time: 1:00 pm
GAS Camp Costs
Cost: $395 ($375 early registration)
Siblings or second registration: $ 345 / $ 325
Sibling/second registration rate: Get a $50 discount for the second (or third, or fourth..) child that registers from the same family, or when the same child signs up for more than one session. This applies to youth camps only, not family camp or young adult camp.
Scholarships are available for all camps!
Register for Camp
Online Registration:
Our online registration system is secure and easy! The health form is included, so please have your insurance card ready. You have the option of paying in full, or making a $50 deposit when you sign up and paying the balance by June 1.
Paper Registration:
To register by mail, download and complete these registration forms and mail them to:
Camp Talahi Retreat and Nature Center
c/o St. Paul UCC
26550 Cherry Hill Rd
Dearborn Heights, MI 48127