Many schools have held their overnight camping programs at Camp Talahi over the years as part of our Nature's Classroom program.
Going to camp is the best thing that can happen to your class! Camp Talahi has a history of providing hands-on learning about science, math, history, and more!
View our Natures Classroom brochure.
Sample Breakout Lessons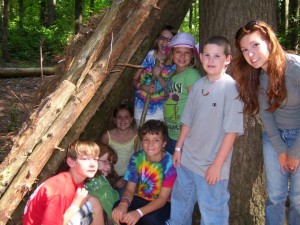 Whether your class is building teamwork skills on the adventure course or learning about ecosystems in our unique tamarack bog, students will never forget their camp experience.
Adventure Course: a series of obstacles help teams work together.
Survival: build a fire and make an emergency shelter.
Habitat Hunt: learn about camp's forest, lake, bog, and meadow ecosystems.
Canoeing: take a trip around the lake and learn a lifelong skill.
Colonial Toy Making: go back to colonial times with a fun craft.
Typical Daily Schedule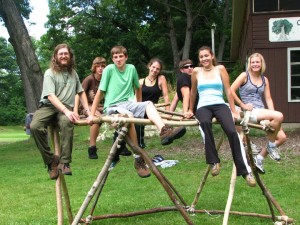 10:30 am         Bus arrives, kids unload their luggage onto trailer to be delivered to dorms.
11:00 am         Unpack and get settled in
12:00 pm        Lunch
1:00 pm          Orientation
2:00 pm          Canoeing
2:45 pm          Fire and shelter building
3:30 pm          Predator/Prey game
5:30 pm          Dinner
6:30 pm          Skit Night!
8:00 pm          Campfire and S'mores
As a relatively small camp, our staff are able to work with you to customize your school's trip completely. Our enthusiastic and talented staff take care of everything–from leading our educational breakout sessions to preparing and serving the food. Contact info@camptalahi.org to set up a camp session your students will never forget!