Our Mission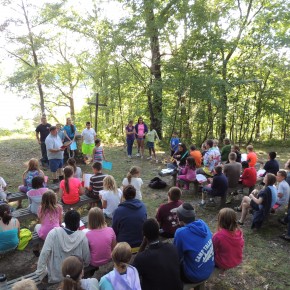 Camp Talahi serves as a retreat center for churches, secular organizations, and individuals throughout Michigan. Away from the pressures of everyday life, Camp Talahi offers a singular, spiritually enriching environment wherein one grows to a better understanding of God, oneself, and one another. Camp Talahi provides an "up-north" Christian retreat experience in close proximity to church and home.
Who We Are
The Camp Talahi Retreat and Nature Center, Inc. (CTRNC) is an nonprofit organization formed by a consortium of Michigan United Church of Christ members and ministers. CTRNC is a 501c3, tax-exempt entity under Michigan and federal law.
CTRNC has been organized for the purpose of administering camping and retreat programs on the Camp Talahi property for future generations of UCC members and other interested individuals, families and congregations. Camp Talahi has played a vital role in supporting youth and outdoor ministry, and we believe that through careful planning and thoughtful operation, Camp Talahi can once again play a pivotal role in the lives of Michigan UCC members of all ages.
Executive Director
Hannah Braun 810-844-1499 info@camptalahi.org
Board of Directors
Josh LeBaron, President
Stephanie Lange, Vice President
Jim Harvey, Treasurer
Brian Telder, Secretary
Eileen Lovett
Robert Braun
Leigh Snyder
George Betts
Reverend Margo Allen
Dayna Neef
Robert Loomis
Our Members
Members are at the heart of the Camp Talahi Retreat and Nature Center. These are the committed individuals that help keep camp running and help us keep getting better, year after year. In addition to providing financial support, members elect the Board of Directors and help make major decisions about camp's future. Learn more about becoming a member.
Individual Members:
Christine Cardimen
Evan Demko
Julie DiFranco
Amber Finkbeiner
Amelia Ponson
Gillian Gainsley
Jon Russell
Zach (Scotty) Seguin
Joan Walz
Alex Willenborg
Hannah Braun
Tessa Willenborg
Ashley Finkbeiner
Tanja Burkholder
Todd Eckert
Donna Stonebreaker
Lyle Widmayer
Judy Lopus (a.k.a. Mother Nature)
Debbie Kelley
Alex Papin
George Kelly
Michael Woods
Family Members:
The McCormack Family
The Kriews/Jacques Family
Hippo Hill Members:
Jer Hylen
Reverend Margo Allen
Josh LeBaron
Brian Telder
Aaron Urick