Calling all teens! The Camp Talahi Retreat and Nature Center is hosting a Fall Teen Retreat October 11-12 2013!
Teen in grades 9-12 are invited to join under the fall foliage for a overnight of catching up with friends around the campfire, dancing and enjoying the fresh air!
The cost is $25 and includes dinner on Friday and breakfast and lunch on Saturday. This retreat will be held in conjunction with the CTRNC Annual Meeting (10 am on October 12, 2013) and Fall Family Fun Fest (2-4pm October 2013)
Registration is available online (click the blue button!). If you have any questions contact Ashley at 810 844 1499 or at info@camptalahi.org
Hope to see you there!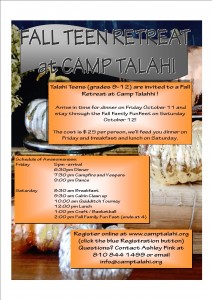 Schedule of Awesomeness:
Friday
5 pm –arrival
6:30pm Dinner
7:30 pm Campfire and Vespers
9:00 pm Dance
Saturday
8:30 am Breakfast
9:30 am Cabin Clean up
10:00 am Quidditch Tourney
12:00 pm Lunch
1:00 pm Craft / Basketball
2:00 pm Fall Family Fun Fest (ends at 4)