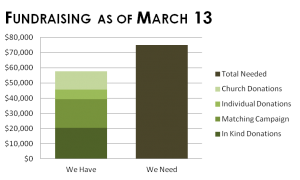 The numbers are in for March, and we're very close to reaching our goal and being 100% ready for an amazing year at Camp Talahi!
We received donations from countless people at 21 churches, plus more than 50 individuals, and we have 24 new members! We couldn't be more thankful for all the incredible support!
The matching campaign was our biggest success! 18 churches donated a total of $9,382.10 – so with the match we've raised over $18,000! Thanks again to the First Congregational Church, UCC of Romeo and the private donor whose generosity made this possible.
Now, we're only 17,300 away from our fundraising goal for 2012!!! We are SO CLOSE! Here's how we're going to make it happen:
30 people will become members of Camp Talahi! You can donate online here! (30 more people will donate $25-$50 we love you too!)
50 people will sign up for the Talahi 5k run! It's only $20, and members get $5 off (see #1). PLUS there's a delicious lunch and there will be an Open House afterward!
200 people will buy tickets for the raffle put on by First Congregational Church, UCC of Rome0 (that's right! They're at it again!) The prize will be $5,000! More details coming soon.