A donor at First Congregational Church, UCC of Romeo has offered to match donations to Talahi! This is the best, easiest way you can raise money for camp. Here's how it works:
Step 1: Go to church and make an announcement.
It could go something like this:
"Hi, my name is ____ and I have an announcement about Camp Talahi. Camp Talahi has been an important place to (me/my kids) and we are raising money to help camp re-open this summer and provide a fun, faith-filled experience for kids in the UCC in Michigan. We are asking church members to contribute one dollar. Yes, just one dollar! Each dollar we raise will be matched, thanks to a private donation from a member of the First Congregational Church, UCC of Romeo. There is a basket (in the narthex/at coffee hour/etc.) where you can make a donation"
Step 2: Put out a donation basket
This is the easy part! all it takes is some kind of basket/hat/shoebox and a sign.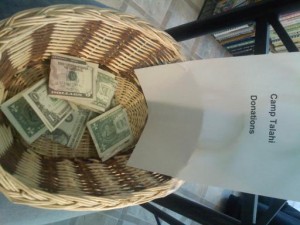 Step 3: Repeat every Sunday for for 3-4 weeks
Step 4: Send donations to First Congregational Church, UCC of Romeo and have your donation doubled!
First Congregational Church, UCC Romeo
102 Church St.
Romeo, Mi. 48065
Mark it "CAMP TALAHI "
They will match it (up to $10,000) and send it all to Camp Talahi Retreat and Nature Center!